Cloverdale Lights Up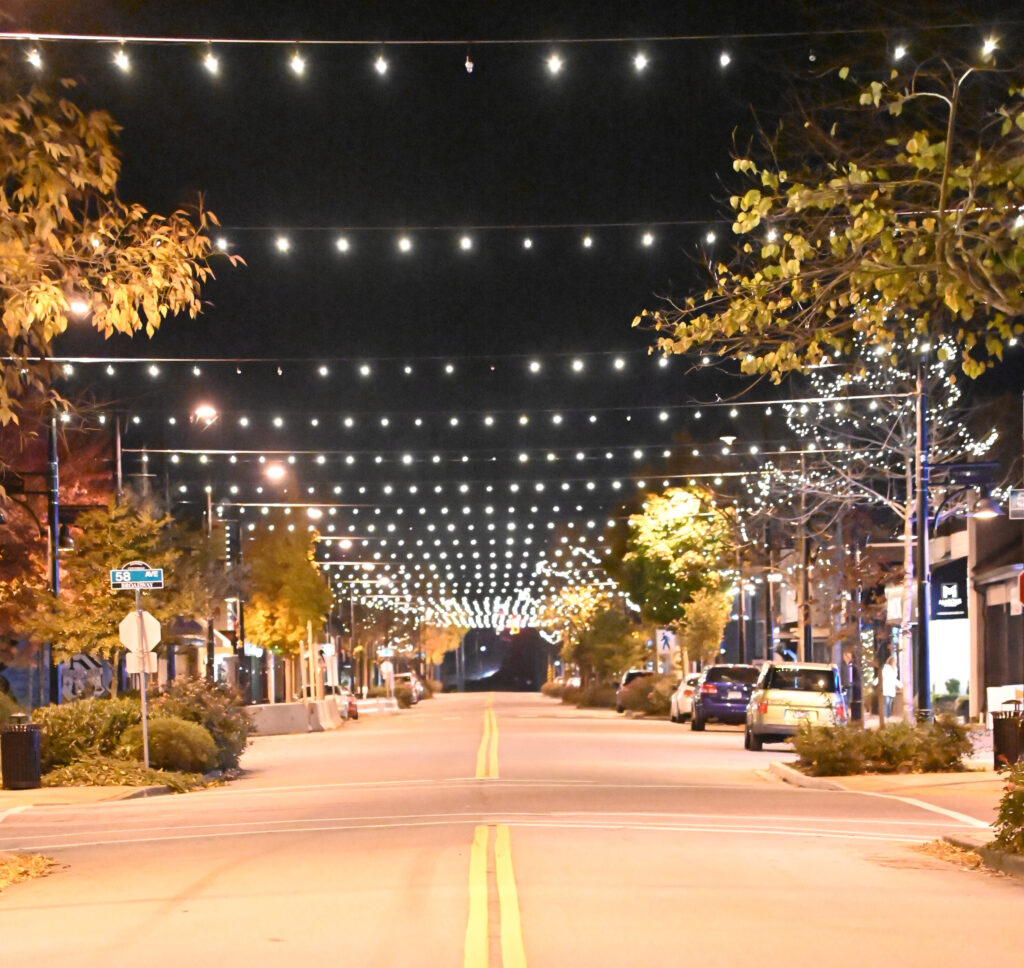 By Paul Orazietti,
Cloverdale BIA Exec. Director
We started with "What If We Added Murals" in public spaces during the current pandemic to looking at "Let's Add Light" in the Town Centre especially near outdoor patios and public places like Hawthorne Square.  Timing is everything.
As we roll along with the pandemic, the BIA started thinking about what could be done quickly that would help enhance the business charm of the Cloverdale town centre. There are several examples in various downtowns in the Cities that make up Metro Vancouver that provide inspiration. A quick visit to daowntown Vancouver on Robson St in the evening and you will see numerous lights in trees, alleys, passageways, patios and on buildings but more importantly you will see people. The BIA is working with the City of Surrey to do similar place making initiatives that will make the historic Town Centre vibrant and exciting day/night.
This summer three outdoor temporary restaurant patios (Hawthorne Beer Market & Bistro, the Henry Public House and the Vault) were set up on 176 Street with hopes of increasing night life and bringing a lifeline to some of the most affected businesses by the Pandemic. The Cloverdale BIA and Cloverdale Chamber believe that there is an opportunity to improve the outdoor experience in the historic town centre and make it more annual. The restaurant owners are willing to invest in more permanent fixtures for their patios if the City and this year's experimental temporary patio is successful. Through social media the BIA has determined that there is strong interest in the community having outdoor patios and traffic slowed down on 176 St.
We are also looking at putting strings of light across the streets of 176 St on the current tall streetlights which are spaced directly apart from each other on 176 St between Hwy 10 and 58 Ave. There are also plans to add more annual lighting in public landscaped areas including some large trees.
Another important project that the Cloverdale BIA will undertake will be a Hwy 10/177b Intersection Enhancement. The Cloverdale BIA and Chamber lobbied the Prov govt and City to survey this intersection based on safety concerns expressed by residents, especially from seniors, people with disabilities and others.  The Cloverdale BIA/Chamber is working with the MOT and the City of Surrey on safety enhancements which potentially will include an Enhanced Pedestrian Crossing Signal and No Right Turns on Red signs. The Cloverdale BIA is seeking to partner with the City, Hydro and the MOT to move a power line post which is currently in the middle of the sidewalk by the intersection crossing. Support came recently from the Hon. Stephanie Cadieux for improved safety and accessibility at this busy intersection which sees on average 63,000 vehicles pass by daily.
More local develop sees the Cloverdale Town centre going through an unprecedented amount of growth with three new residential buildings that will start construction this summer/fall between 57 Ave and 58 Ave at 177B St. There is plans for another 5-storey residential units that will incorporate an existing heritage home at the corner of 56A Ave and 177B St.
In a recent survey conducted by the BIA on businesses by the effects of the Covid virus, the majority had been affected by pandemic, but they wanted the BIA's focus to tell how they have Opened With Care and welcome back customers and visitors. The survey also pointed out to all levels of government to keep taxes the same or lower and that surviving the pandemic is their top priority. This summer during the pandemic the Cloverdale business community spent a lot of money and time in making their businesses COVID Safe and more attractive.  There's been a lot of painting, landscaping, and façade work. There is a new vibrancy growing in the Cloverdale Town Cenre and we all look forward to better times and maybe a new Cloverdale Food Festival when they allow it.
Visit the Cloverdale bia website (www.cloverdalebia) or follow us on Twitter @paradeguy and Facebook CloverdaleBIA.
---
---
---