My Latest Creations – Comfort Food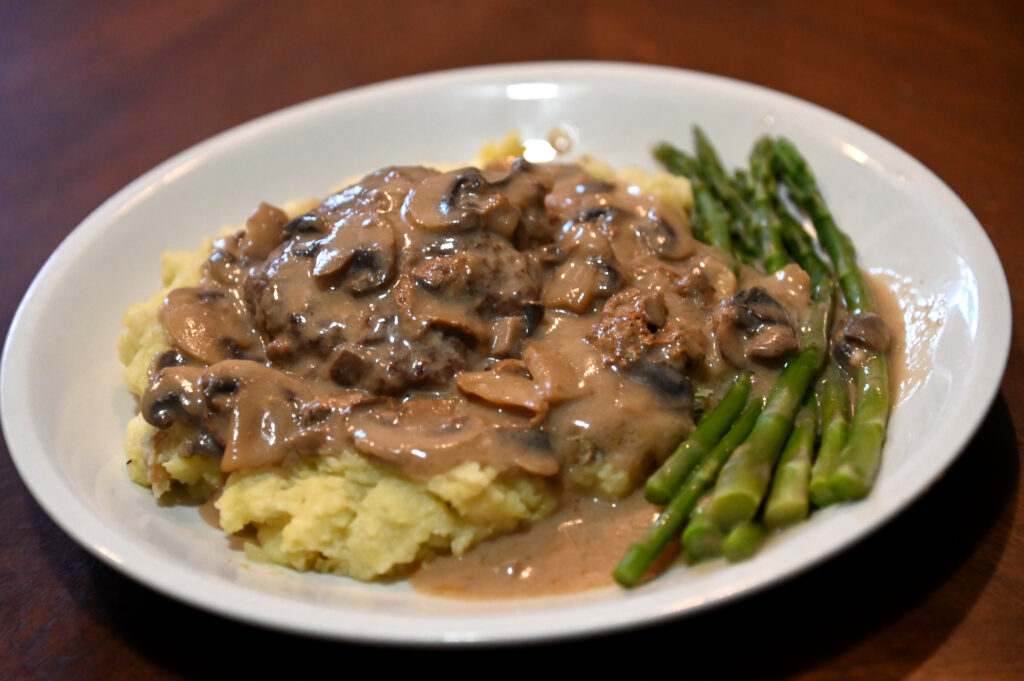 Who doesn't like comfort food, especially during the fall when it's cold and wet outside.
But did you know most comfort food recipes are among the simplest dishes you can make.
Here are a few of my favourites.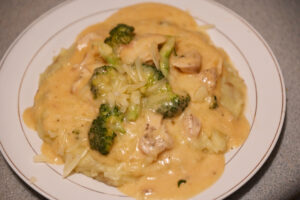 Chicken Broccoli and Cheese.  Start with making mashed potatoes or rice, your choice.
The simplest way I've done it is to cut up a couple boneless chicken breasts into small chunks. Fry them up with some minced garlic, finely chopped onion and pepper until browned. Now add some chopped broccoli stir in a can of cheddar soup do not add milk or water. Top with shredded cheddar cheese and cover. Simmer until the broccoli is done to desired firmness. Serve over your potatoes or rice. Fast and Yummy.
Another way I make this is to use individual casserole dishes. For this method I cook the chicken then add the broccoli some cheese and soup and simmer for a few minutes. I then spoon in the chicken, broccoli and cheese mixture, cover with a layer of mashed potatoes, add some shredded cheese and bake until golden brown.
Salisbury Steak. Top Photo – Start by making your lean ground beef mixture, I grate an onion, add an egg, some minced garlic and pepper, worcestershire sauce and mix. I then press them into 3/4 inch thick large patties and sear them on very high heat just long enough to brown them, they will finish cooking in the gravy. Gravy, the simplest way is to use a can of mushroom soup 1/8 cup of milk with an overflowing cup of sliced mushrooms. Add everything into the skillet cover and simmer turning the patties and stirring occasionally for about 20 minutes. Serve with your favourite vegetable over a bed of rice or mashed potato. A fresh Portuguese bun is a good addition too.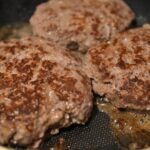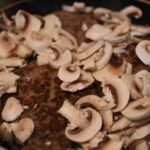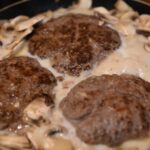 Shepherds or Cottage Pie. A classic comfort food for sure. I think it is made of ground meat because the poorer people who came up with shepherds or cottage pie couldn't afford the higher better cuts of meat. There are so many ways to make this I'm going to share my favourite with you. I start with lean ground beef, I prefer lamb but  unfortunately in my house I'm the only one who likes it. I start with a couple cloves of garlic, rosemary and thyme and finely chopped onion, celery and carrots simmer until the onions are clear, add my ground beef and cook until brown. I then add a cup of beef broth and a cube of beef bullion, flour to thicken the mixture and simmer another 10 minutes or so. I then add my frozen peas and corn and mix them in. I then place all of it in a casserole pan and top with a good layer of mashed potatoes, pour on some melted butter and place in the oven and bake at 350 for about 30 minutes or until bubbling at edges. Then broil until the potatoes are golden brown. Let cool for 5 minutes and serve.
For ground lamb it's the same recipe as above but with the addition of some red wine and a couple of teaspoons of Worcestershire sauce you could also add these to your ground beef recipe too. It's all good.
If you enjoy my recipes you can find more on the new website, www.shopcloverdalemagzine.com
For those of you who don't cook and tend to eat out a lot, if you want comfort food try a tv dinner. I haven't had one since I was a kid. For a treat my parents would by them and we would get out the tv trays and have dinner in front of the tv.
---
---
---